TUTTA LA MIA ARTE ATTRAVERSO LA CREATIVITA' DI UN FILO
La tessitura è per me un'arte, e come ogni forma di arte necessita di studio, ricerca, ma anche creatività e passione. È su questi presupposti che si basa il mio lavoro di tessitura. Attraverso l'uso di materiali ricercati e naturali  realizzo capi d'abbigliamento e accessori, ma anche complementi di arredo e oggetti per la casa. Faccio tutto con le mie mani: ogni singolo prodotto è realizzato con attenzione ed estrema cura.  Per questo la produzione non è ampia, ma rispetta il tempo della manualità, che è anche tempo di meditazione e calma. Anche se lavoro in maniera autonoma, sono sempre interessata alle collaborazioni esterne, e apprezzo fortemente lo scambio di idee e competenze. Sono queste occasioni che rendono ancora più prezioso il mio lavoro ed unico il prodotto che realizzo.
ALL MY CREATIVITY THROUGH THE TRADITION OF YARN​
Weaving is an art for me, and like any form of art requires study, research, but also creativity and passion. It is on these assumptions that my weaving work is based. Through the use of sophisticated and natural materials, I create clothing and accessories, but also furnishing accessories and objects for the home. I do everything with my own hands: every single product is made with care and extreme care. This is why production is not extensive, but respects the time of manual work, which is also a time for meditation and calm. Even if I work independently, I am always interested in external collaborations, and I strongly appreciate the exchange of ideas and skills. These are the occasions that make my work even more precious and the product I make unique.
I corsi di tessitura presso il mio laboratorio vengono svolti su tipi di telaio diversi per imparare tecniche varie. Usiamo telai a cornice e telai con 2 e 4 licci per fare sia piccoli arazzi e tappeti sia tessuti.
The weaving classes at my laboratory are carried out on different types of looms to learn various techniques. We use frame frames and frames with 2 and 4 heddles to make both small tapestries and rugs and fabrics.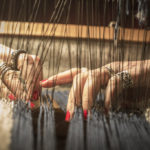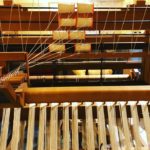 Laura Biagini – via de Macci 46r – 50123 Firenze – Italia  +39 39.38.999.332 – laubiagi1@gmail.com