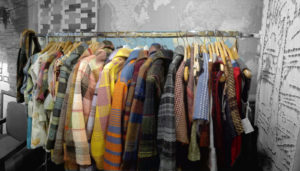 Per l'abbigliamento mi piace pensare a capi semplici nel disegno ma con particolari fortemente legati al lavoro manuale: lavorazioni artigianali abbinate a modelli usuali, uso di filati alternativi su capi tradizionali, realizzazione di una semplice finitura di bordi e orli con colori e punti diversi. Adoro rielaborare capi vintage con l'aggiunta di parti in maglia.
Il mio stile è di sapore vagamente giapponese nelle geometrie ma occidentale nei colori e nei loro abbinamenti.
Realizzo capi comodi e versatili. Ognuno è un modello unico, certamente ripetibile ma mai esattamente riproducibile. Mi piace poter far scegliere alle persone modelli e colori e realizzare capi su misura.
Sperimentare è proprio il termine con il quale preferisco descrivere il mio stile.
Se hai richieste o vuoi informazioni contattarmi!
CREAZIONI – creations
For clothing I like to think about simple dresses in design but with some  particular characteristics strongly related to handmade traditions: craftsmanship combined with conventional models , the use of alternative yarns on traditional dresses or the realization of a simple finishing with different colors and stitches I love reworking vintage pieces with the addition of knitting or crocheting parts – tops or skirts – and experimenting using different yarns.
"To experience" is just the term that I prefer to describe my style.
If you have any requests or information please do not hesitate to contact me!