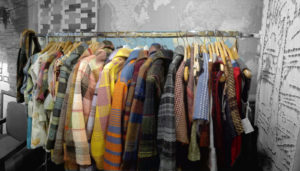 L'associazione Ad'A cerca di sperimentare l' uso dei tessuti realizzati per l'abbigliamento. Assieme ai gruppi di lavoro ci piace pensare a capi semplici nel disegno ma con particolari fortemente legati al lavoro manuale: lavorazioni artigianali abbinate a modelli usuali, uso di filati alternativi su capi tradizionali, realizzazione di una semplice finitura di bordi e orli con colori e punti diversi. Cerchiamo anche di studiare con rielaborare capi vintage con l'aggiunta di parti in maglia.

Uno stile che abbiamo via via sperimentato nelle nostre applicazioni dei prodotti della tessitura é uno stile di sapore vagamente giapponese nelle geometrie ma occidentale nei colori e nei loro abbinamenti: questo perché abbiamo iniziato a modellare e cucire i nostri tessuti per realizzare dei capi indossabili.

Ognuno è un modello unico, certamente ripetibile ma mai esattamente riproducibile. Ci piacerebbe poter far scegliere alle persone modelli e colori e realizzare capi su misura.

Sperimentare è proprio il termine giusto per descrivere la nuova visione dell'associazione.
Ad'A association tries to experiment with the use of fabrics made for clothing. Together with the work groups we like to think of simple garments in the design but with details strongly linked to manual work: craftsmanship combined with usual models, use of alternative yarns on traditional garments, creation of a simple finish of edges and hems with colors and stitches different. We also try to study with reworking vintage garments with the addition of knitted parts.

A style that we have gradually experimented in our applications of weaving products is a style with a vaguely Japanese flavor in geometries but western in colors and their combinations: this is because we started to model and sew our fabrics to create wearable garments.

Each is a unique model, certainly repeatable but never exactly reproducible. We would like to be able to let people choose models and colors and make tailored garments.
Experimenting is just the right term to describe the new vision of the association.